Get Back To You - The Life Saver Plan
(a 6-week online wellness programme just for Mums who want to go from surviving to thriving)
Are you ready to be the best possible version of you?
Are you ready to have the energy, vitality, motivation and happiness you've always wanted?
Then, it's time to create YOUR healthy life.
See 2020 out with something positive, something life changing and something that will help you now and in the future!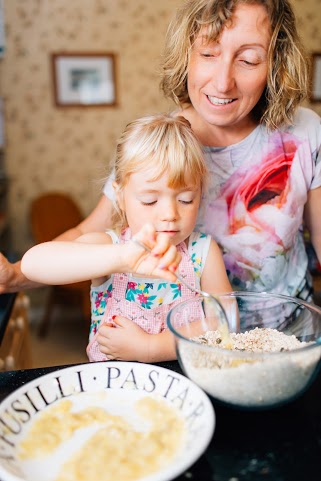 Being uncomfortable in your skin is not a great place to be.
Being in overwhelm and stress is not good for your health.
Being reliant on sugar (or other temporary) fixes is not going to help you feel good about yourself.
Being tired all the time and exhausted is not going to make life easy.
Being unable to recall the last time you really laughed and had fun is not the way to live.
Being a Mum is the hardest and most rewarding job you can do.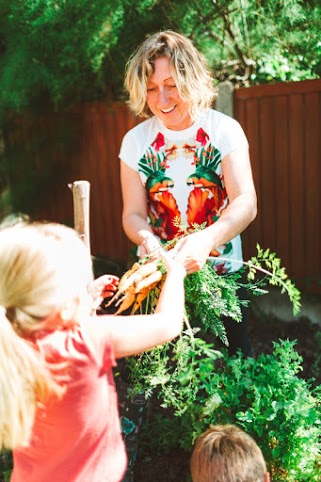 This course is currently being replaced - more info soon!
You know you should be eating a healthy diet and you know you should be exercising but life keeps sabotaging you. You end up struggling with willpower, feeling time poor, resorting to emotional eating and just getting caught up in the busyness of everyday family life. You make sure everyone else's needs are taken care of but then you are left last on the endless 'to-do' list.
You've got stuck just churning out the same meals, often different meals to suit different tastes and time schedules. Then when the kids have gone to bed out come the rewards, those quick fixes, that you know are not good for you!
Taking time for yourself has become such a luxury you can't remember the last time you actually took any proper 'me-time'!
Your self-confidence and energy levels need a big boost.
You have little time and then when you do have time you're exhausted and don't want to do anything.
Most days can feel a little like Groundhog Day.
It's time to wake up, step off the hamster wheel and become a thriving Mum.
Are you ready to find the real you, your old self, the person you were before you answered to Mum? Is it time you got back to you?
There has never been a better time to achieve  - your full potential, your health goals, your weight goal, your energy goal, your confidence goal - then right now!
Whilst everyone else is panic buying loo rolls again you can be focusing on equipping yourself with the tools you need to not only ride this s**t storm but come out of it on top!
You can have more time, plenty of energy, feel vibrant and motivated, get better quality sleep, body confidence, be in balance, have fun, put yourself first without being selfish, help the rest of your family AND be able to look in the mirror with love and respect for yourself again!
Hundred's of Mums, just like you have done exactly this using my proven 6 step programme. And if they can do it, so can you, especially with the support of the group.
The Get Back to You Life Saver Plan will give you:
Space to breathe because you now have a plan, a proven formula to help you get back to the person you want to be.
A 'virtual' hug because you are now in a group of amazing, supportive Mums just like you, all aiming for the same goal and you have me to hold your hand and take you step by step through the process.
A sense of purpose because you are actually doing something positive to move from the 'stuck' position to one of ease and flow.
A feeling of value as you start to prioritise yourself and put your needs first but in a way that benefits the entire family.
Empowerment as you learn, understand and implement the most simple and effective ways for you and your family to lead a healthy, happy and fulfilling life.
A step by step approach so nothing is overwhelming and the changes you make become permanent because it is so easy to do.
Let me show you how easy it is to make the right choices without even thinking about it, to get the motivation you need to make long-lasting changes and to regain your vitality, self-respect and energy.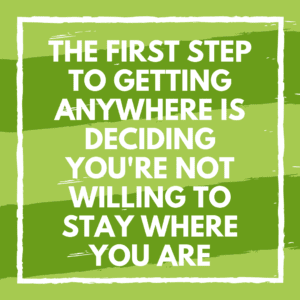 If you keep doing the same things over and over again then nothing is going to change.
I know you're in there somewhere. You know you're in there somewhere.
Let me help You – Get Back To – You with my 6-week Life Saver Plan.
(a fully supported online programme especially for busy Mums)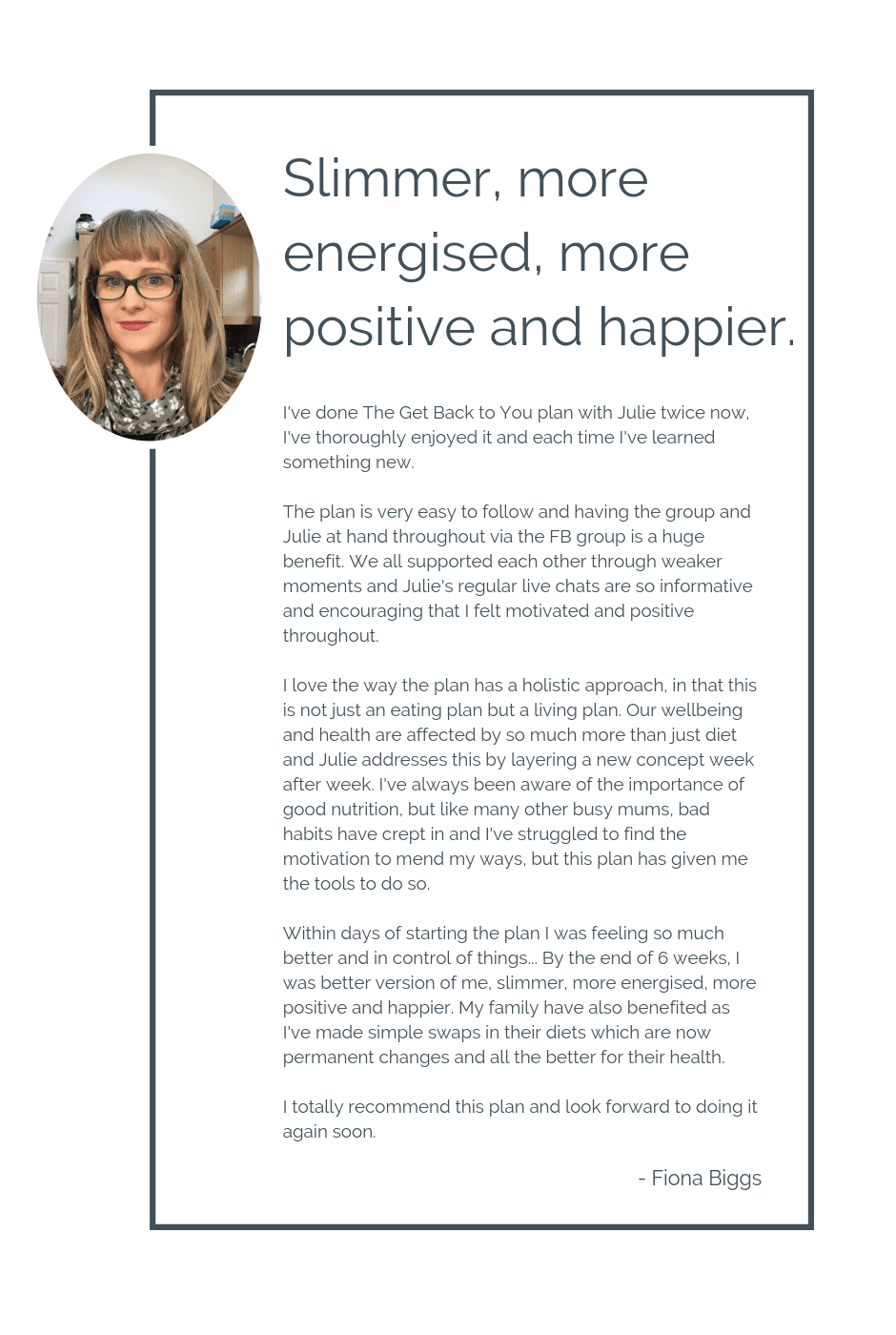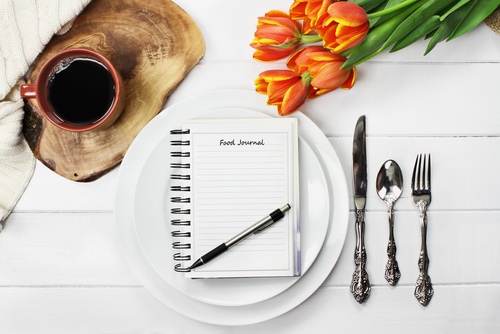 Step 1 Food Fundamentals
Before you do anything, we will find out exactly where you are now and what you want to achieve. Just doing this exercise alone has been a relief for so many Mums who've been through the course. Having a starting point and knowing where the finish line is means you have moved forwards and are ready to take the positive steps you need.
And step 1 is all about food.
Food is an important aspect of your well-being. It contributes to your physical, emotional and mental health. Getting your food in balance means you can still enjoy the treats like an ice-cream at the beach, or afternoon tea with your friends plus you can order whatever you like at a restaurant knowing that you have your health covered.
To do this you need to know the food fundamentals.
By the end of this step you will know what to eat to feel and look good, what foods to buy as well as the ones to avoid, how to cook meals everyone will enjoy in super quick time, how much food to put on the plate, how to meal plan, how to save money on food and how to get the rest of the family onboard.
Step 2 Me Time Play Time
Your well-being is not just about what you eat. In step 1 we started by discovering where you are at and where you want to go by looking at all aspects of your wellness.
In step 2 we look at the benefits of moving your body and having fun together with the importance of pausing for some well deserved me time.
To do this you need some me time play time.
By the end of this step you will know how to move without going to the gym, how just 3 minutes a day can boost your energy and health, how to form new habits to allow you to move every day without taking up too much time and money, how to have fun and enjoy your playtime and how just 10 minutes a day of guilt free me-time can supercharge your energy and boost your mood.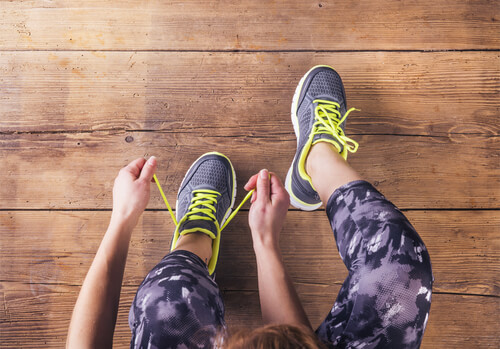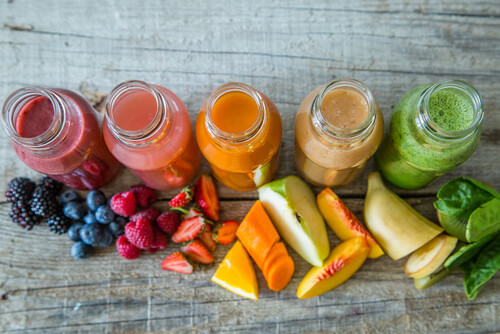 Step 3 Nutrition Know How
To really understand what foods and nutrients you need to stay ahead of the game we need to dig a little deeper in to the subject of nutrition. I will be showing you how to give yourself a nutrition consultation, so you can become the expert of you.
To do this you need my nutrition know how.
By the end of step 3 you will know how to use supplements to your advantage without wasting your money, whether you even need to take a supplement, how certain nutrients can give you an immune boost or aid weight loss, tune up your digestion or improve your mood, what your symptoms are telling you and then how to sort them out and the top 10 foods to include in your diet to protect your family's health.
Step 4 The Reset
This step is going to give you a massive leap forward towards achieving your health goal, this step is all about resetting the body. In just 7 days the body reset will help you fully embrace and understand how to use food to improve your mood, energy, memory, immune and digestive systems, skin as well as help you kick the cravings and lose some weight (especially around the middle).
By the end of step 4 you will feel lighter, brighter and simply fantastic. The reset gives you the springboard you need to really accelerate your health.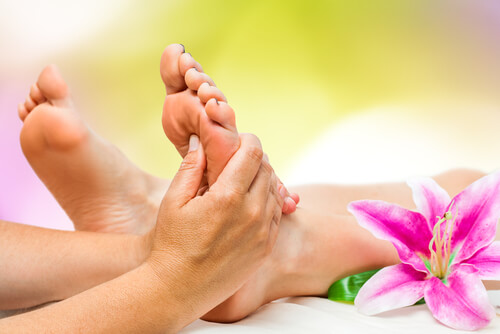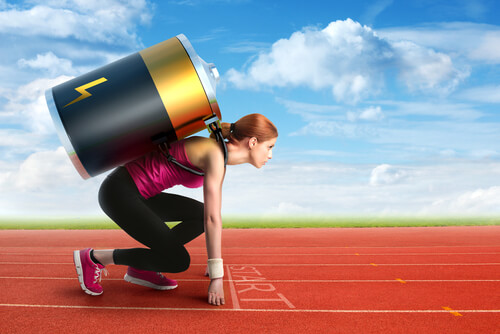 Step 5 The Energy Accelerator
Off the back of the reset plan we can now really supercharge your energy. Think about how you feel when you're energised! You can take on the world when you feel great and this is exactly what this step is all about.
By the end of this step you will know exactly what it feels like to have an abundance of energy! You will learn the simple techniques you need to boost your energy even on those days where you are a little low (e.g. when the kids have had you up in the night). You will know how to avoid the energy drainers and how to get a better night's sleep. This step is priceless!
Step 6 The Happiness Formula
There are many aspects of being happy! In this step we look at how to bring the fun back in to your life. Happiness is often another word for feeling confident, knowing what you want, having a sense of purpose and spending time with those who make you laugh.
In the final step you will discover how to get what you want, how to get rid of the things you do not want, how to ditch emotional eating, how to have more fun, how to boost your confidence and how to be happy in your own skin.
At the start of the course we looked at where you were and what you wanted to achieve. In the final step we look at how far you've come and how you can keep this feeling for the rest of your life.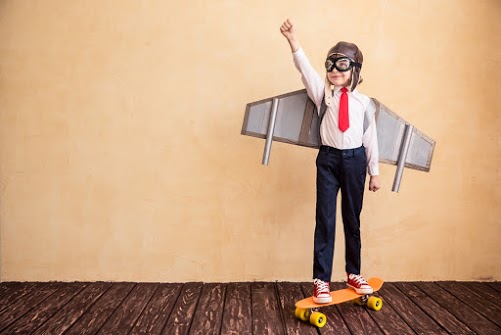 Why A Group Programme Is Better Than Going It Alone: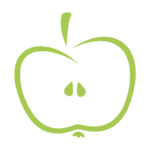 Because you now have a plan, a proven formula to address your well-being once and for all. You can relax because everything is laid out in the simplest of ways. All you have to do is to follow the plan; step by step and breathe!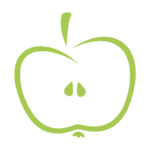 A virtual hug is on tap when you join our amazing group of Mums. Ladies just like you, all aiming to be the best version of themselves & raise healthy kids. I'll also be there the entire time, to support you through the whole process.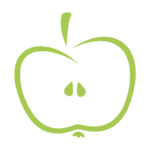 For the next 6 weeks you will be given the tools and motivation you need to make long lasting changes. It makes a huge difference to your success if you have accountability, someone to look out for you and give you a nudge if you need it.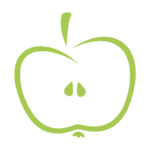 Confidence comes from feeling good from the inside out. When you start to make changes (even little ones) across all areas of your health you will start to see your confidence sore. You can also be confident because this plan has been written especially for you by a fully qualified Nutritionist.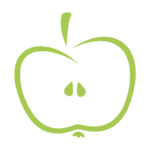 As you start to prioritise yourself and put your needs first in a way that benefits the health of your entire family. When you are full of energy and vitality, then happiness will also present and that's a great way to live your life!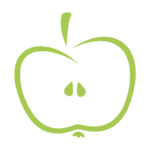 As you learn, understand and implement the most simple and effective ways for you and your family to lead a healthy, happy and fulfilling life.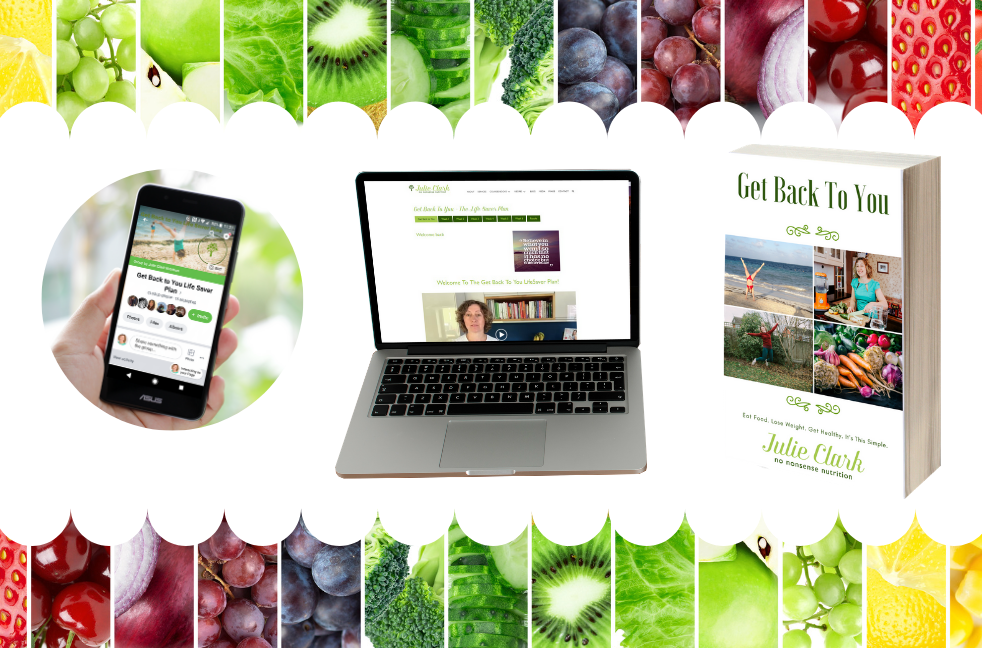 Private Facebook group with weekly live Q&A, learning and interaction. I will be in this group every day during the 6-week plan, so you will get all the support you need.
Your weekly steps delivered in easy to download format including videos to help guide you. A personal login so you can access the information at any time to suit you. Life time access to all the course content is also included.
Recipe eBook containing 100 family friendly, tried and tested recipes (breakfast, lunch, dinners and snacks).
No expert cooking skill needed. All recipes are super quick and easy to prepare.
6 weeks of 'done for you' meal plans (both vegetarian and non-vegetarian plans provided plus lots of vegan recipes) with shopping list and recipes.
You will have access to 3 amazing bonus sessions which will further help you to lead a balanced, healthy life.
As a fully qualified Nutritionist I am very experienced in dealing with food allergy and intolerances so you can be rest assured that I have you covered.
Choose this option if:
You are 100% committed to achieving your health and wellbeing goal.
You need personal one to one help to guarantee success and stop the self-sabotage.
You have tried everything else, have had enough and want to make long lasting changes and form new healthy habits.
You need a kick up the backside or someone on your side that understands YOUR situation, schedule and life!
You have some health issues or symptoms that need extra attention.
What's included:
The Life Saver Plan plus group support & bonus sessions as detailed on this page
1 x initial 75 minute consultation in person/skype/facetime/phone (depending on your location)
4 x 45 minute follow up appointments– every 3 weeks
1 x 45 minute follow up at 6 months
Nutrition Status Test to find out your current nutrition levels
Personal dietary & lifestyle plan plus tailored supplement programme (if needed)
Unlimited questions/email support
Accountability/full personal support
Your health goals achieved
Package is worth over £1500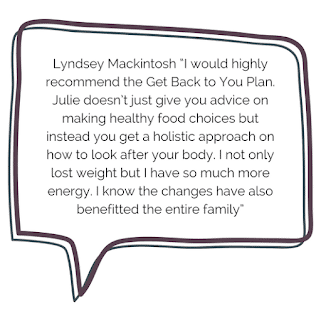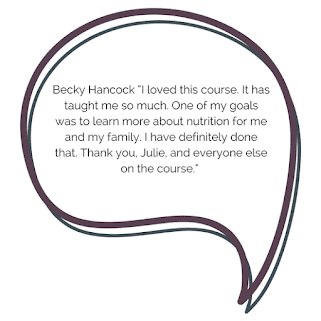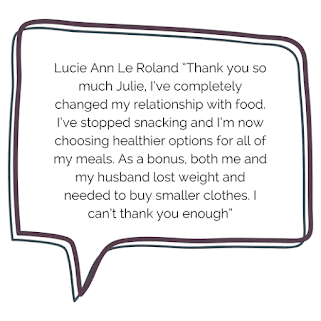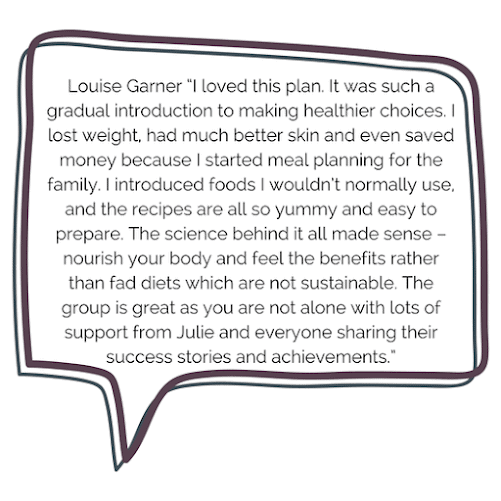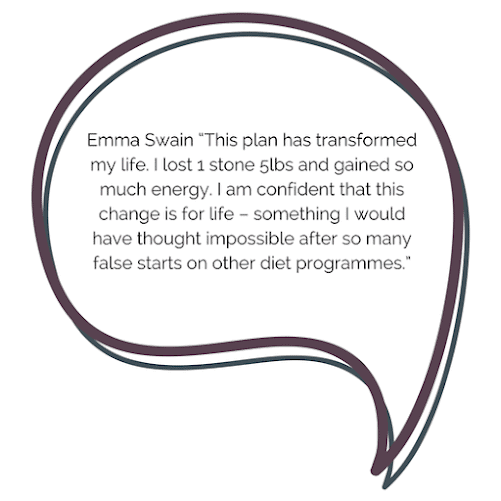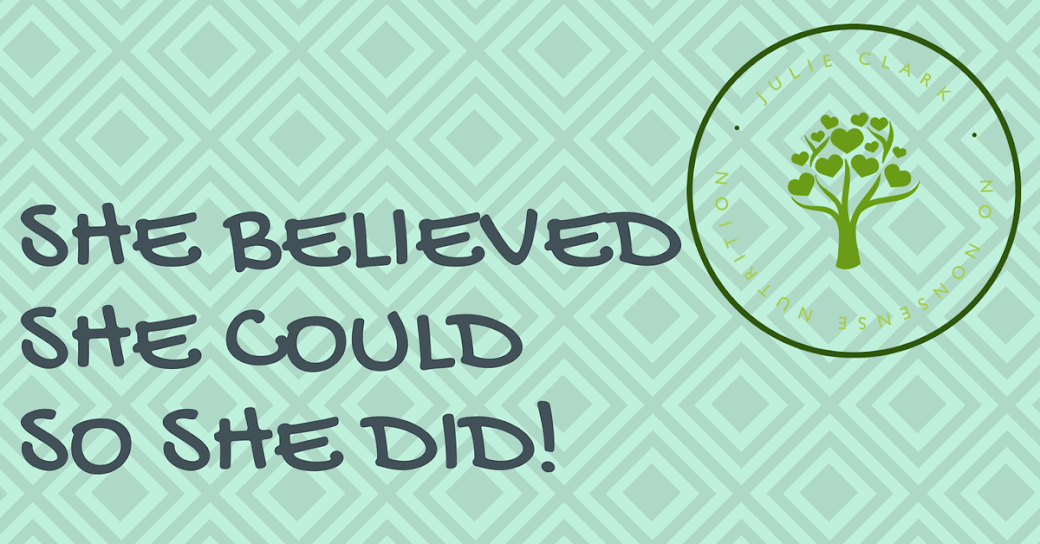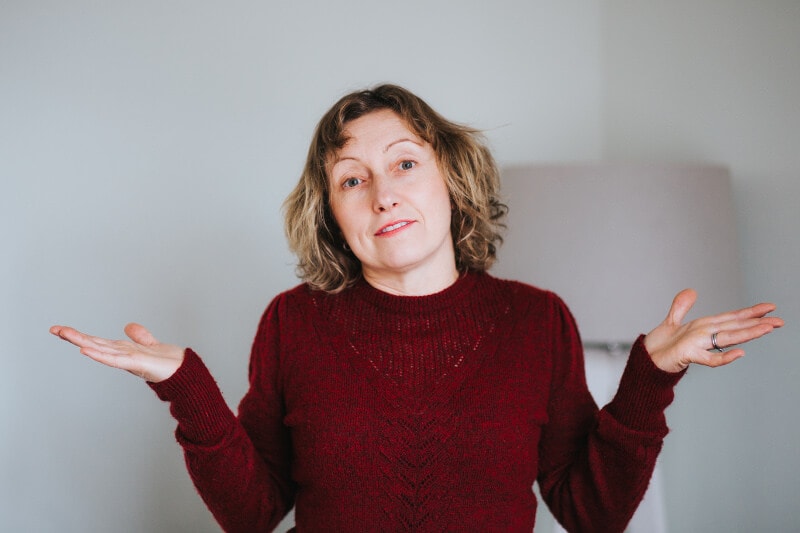 Having children is one of those things that you will never regret but no one ever tells you the real facts. Facts like tea and biscuits (or coffee and cake) are now your 'get through the day' foods. Your belly now resembles a jelly. You're too tired and busy to exercise. You literally do not have any time to yourself. You now work 24 hours a day (or it seems like it). Your boobs will never go back to their original shape and size. You pee when you sneeze or laugh. Even your feet change size (or is that just me!?).
And let's not even talk about nice clothes, waxing, eye lash tinting and all those things you took for granted B.C (before child!).
When my oldest child was 3 years and my youngest was approaching a year old I had a moment I will never forget. I was getting ready one morning and I remember looking in the mirror and thinking – "What the hell has happened to me?"
I didn't even recognise the person in the mirror!
I really had lost my way. Being a busy and tired Mum made it all too easy for me to get on the slippery slope to bad eating habits. My exercise regime had gone out of the window and I found myself putting my needs last after the kids and my husband!
I knew I was not a good role model for my children and that feeling like this was also having an impact on my relationship with my husband.
I'd had enough and figured it was time I regained some of my original self back! I wrote a plan for myself that included healthy eating, exercise and confidence building techniques and then when people started commenting about my new vigour I was persuaded to share my secrets.
This is when the Get Back to You Life Saver Plan was born.
I've been able to help many Mums' rediscover themselves with my 6-step programme.
I've worked with hundreds of Mums, just like you. They are all amazing woman trying to do their best but knowing deep inside that something needs to change.
I am a Registered Nutritional Therapist with 17 years' experience specialising in family health. I write for Mother & B&by Magazine as part of their expert panel, I also write for BabyCenter, I wrote the book Baby Led Weaning Step by Step and I am often called upon for radio and TV.
Being a working Mum with two young children I have both the practical experience and advice as well as the professional experience and advice.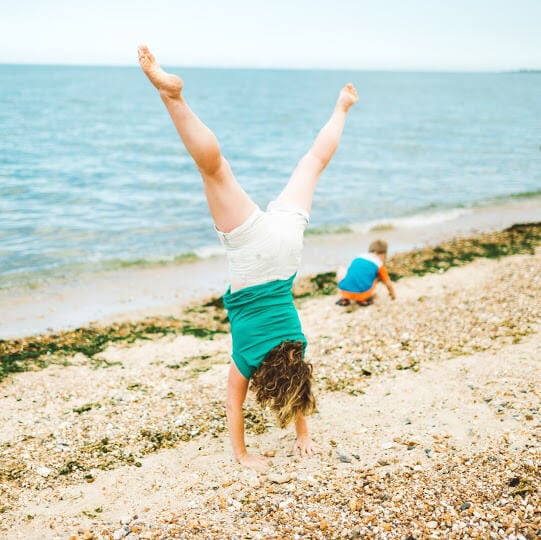 Guarantee
If you complete the first step and feel that you haven't learned anything, are not completely satisfied and the course is not for you I will offer a complete and total refund within 14 days of your request.
The Get Back to You Life Saver Plan will:
Give you the support, motivation and tools you need to make long lasting (and often life altering) changes to your health and well-being.
This plan is NOT A DIET plan. This is not about counting points or measuring sins. This programme covers everything you need to know about YOUR well-being so that YOU can be the best possible version of you (in body, mind and spirit)!
Being the BEST POSSIBLE VERSION of you improves the lives of everyone around you.
If you stay stuck where you are, you will continue to struggle with your weight and body confidence, feel overwhelmed and stressed, be unable to set the right example to your children, be constantly exhausted of the chaos and mess, still relying on the quick fixes and emotional eating and just be in that continual fire-fighting mode!
I know this plan works.
So many Mums have been where you are now and have then made the decision to take a step forward. You only have to look at the comments to see what they have achieved. I've written this plan especially for Mums, so EVERY PART of this course is for you.
Look, I know that only a small percentage of you reading this page will take the next step. You will feel guilty for spending the investment on yourself. You may muddle on for a while longer, using the internet for help or even going to a local weigh and shame club. You may try and ignore how you feel and just get on with it. The thing is, if you add up all of the money and time you've spent trying to feel better about yourself it kind of adds up to a lot! This money and time is not focused spending, it's not dealing with all of the issues in one place, it's not appreciating where your life is at now! It's simply putting a plaster over the problem.
You could go on making excuses about not having the time, money or support from your partner. You might say to yourself, I've tried other plans and they haven't helped. You could tell yourself you can't cook, or the kids won't eat the food. You may tell yourself, I'll do it when………………..(fill in your own excuse!).
Your health is your biggest wealth! Prioritising your well-being is THE most important thing you can do for yourself. You do not need to be an amazing cook, you do not need loads of time and you do not need permission from anyone else to invest in yourself!
Now imagine, you've just completed the 6 weeks. You feel amazing, you look amazing, you have lots of energy, your sleep is better, you feel confident, you have your old self back, you have a purpose, you've improved the health of your entire family, you're on top of the world, you've got your fun back, you are in control and know what to do going forward and EVERYONE is telling you how they have noticed the change. You smile and feel just calm and happy.