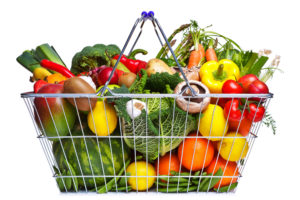 Last week a news story again reinforced the fact that the more fruit and in particular vegetables we eat the better our health. You can read the report here.
In fact, the latest study identified that the magic number for fruit and vegetable intake is actually 10 which rather stamps all over the UK's 5-a-day campaign.
Did you know that in Canada & France their campaign is 10 a day. Most other countries have opted for 7 a day made up of 5 veg and 2 fruits. We are lacking behind especially as in the UK only 1 in 5 of us manage to achieve 5 a day! Oh the irony!
A portion of fruit or vegetable is around 80g. However dried fruit is limited to 30g and you can also include 150ml of juice/smoothie to count towards your intake. Overall we are expected to eat at least 400g of a variety of fruit and vegetables.
White potatoes do not count.
To make it easy for you I've put together a chart for you to print off and score your family over a week. All you need to do is to have a different colour pen for each member of your family. Then tick against the food you've eaten in your colour pen. You can use quarter and half amounts if you do not manage the full serving size. Then add all the amounts up at the bottom to see how close you are to achieving at least 5, if not, 10 servings a day.
Ideally you want to aim for a ratio of 2 servings of fruit to 7 servings of vegetables. Avoid products that promise 'one of your 5 day' but give you a whole load of sugar, salt and additives. Watch for foods canned in sugar.
For example a serving of onion is 1 whole medium onion. If you are a family of four and you cooked a dish with one onion then you can all score ¼ each for the onion if the meal was fully consumed.
Remember this is a rough guide and you will quickly get to see how good or bad you are doing.
Here is the link to the FREE chart.
A guide to a typical day:
Breakfast: add one serving of fruit with breakfast i.e. banana, apple or berries. Include a small glass of diluted juice or even better make a fruit/vegetable smoothie. Make sure you use more veg than fruit to keep sugars low. (2 portions achieved).
Snack: carrot sticks or raw sugar snap peas (1 portion achieved)
Lunch: Sandwich with lettuce. Side of cherry tomatoes, cucumber sticks and mini pepper (1-2 portions achieved), piece of fruit or raisins (1 portion achieved).
Snack: Homemade piece of flapjack (1 portion achieved).
Dinner: Chilli con carne included onion, spinach, grated carrot, mushrooms, tomato puree, fresh tomatoes, kidney beans (2 portions achieved).
Dessert: Homemade smoothie lolly (1-2 portions achieved)
Overall: max 11 portions.
If you would be interested in taking part in my 10 a day challenge or portion size challenge click here to join the FREE group.
I really hope you find this useful.
Julie