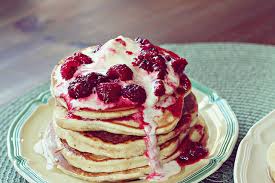 Ingredients:
• 100g plain white spelt flour (for GF use buckwheat)
• 100g wholegrain spelt flour (for GF use buckwheat)
• 1 tsp ground cinnamon
• 1 tbsp ground flaxseed
• 1 large egg
• 200ml approx. of milk (use a plant based milk)
• 1 tsp baking powder
• 1 tbsp coconut oil for frying
Method:
1. Mix all dry ingredients together.
2. Make a well in the middle and add the egg and half the milk.
3. Stir together, adding more milk until you have a pancake batter (add more milk if needed).
4. Heat a little oil in a large non-stick frying and add 1 tablespoon of batter to the pan. You should be able to get 4 small pancakes in one go. Cook for a couple of minutes until brown and then turn over. Cook until golden on both sides.
5. Place your pancakes in a dish and cover with a tea towel until all pancakes are made and ready.
6. Serve your pancakes with fresh fruit and natural yoghurt.
For a video showing you how to make these click HERE.