I don't do chocolate Advent Calendars!
Hey, it's me – the Christmas scrooge who won't give her kids a chocolate advent calendar.
Boo!!!!! Hiss!!! (well it is panto season)!!!
So, I'm not here to ruin everyone's fun but I really do not see the point of chocolate advent calendars – I mean, I NEVER had one when I was a kid and yet I LOVED my no chocolate advent calendar. I could not wait to open the little paper square to see the picture behind.
And, how much chocolate do the kids get anyway around this time – most of which is out of your control!
It's the end of school – here's some sweets/chocolate!
It's the last swimming session – here's some sweets/chocolate!
And so, it goes on………………………………….
Now you may not agree with me but for those who do here is what I do for my kids in order to count down the days to Christmas.
See photo for our advent calendar. There are many types available so have a look around.
1. A special surprise; as a family we try to book a special outing leading up to Christmas. This year we are going to see Matilda in London. On this day the children will get a little note in the pocket of the advent calendar.
2. Using our year-round ticket; we have a couple of places we visit all year around. In the pocket of the advent calendar there will be a couple of family outings to one of these places. We take a picnic, but the children get to have a hot chocolate drink when we are out. This year we will be going to Leeds Castle (excellent Christmas decs & Dreamland in Margate).
3. Charity; in at least 4 pockets I will add a note to choose a toy to gift to a charity or something to take to the charity shop, a food to put in our local food bank or anything that allows the children to give something to those less fortunate. Last year they collected for our local food bank and both bought a toy for local children's hospital appeal.
4. Presents; scattered around the advent I will add a few little surprises. A keyring (they love a keyring), sticker, stationary, hair clips and anything little but useful!
5. Treats; I will make some homemade treats and pop a little note in the pocket to say – "surprise after school snack today"!
6. Dinner; this little note entitles the person to choose dinner – yes, it's going to be pizza that night!!!
7. Kindness; little notes that remind the children to be kind to others and to themselves.
8. Coins; there may just be a couple of sneaking 50p, £1 or £2 coins.
9. Supplements; I will typically change their regular multi vitamin to a different brand just for the advent. They think it's a treat. Mwww ha ha ha ha!!!
10. Film; choose a family film to watch plus a snack – yes, I'll be making popcorn that night!
11. Father Christmas; is watching so today you must complete your chores!!!
12. Visit Father Christmas; a little note that says today you get to see the Big Man!!!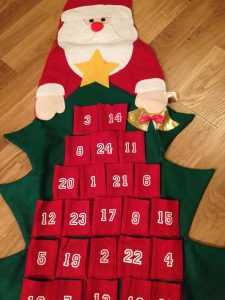 Finally; there is a wrapped present for Christmas eve – this is usually something for bedtime – new pjams!
I know it takes more effort and costs more than a chocolate advent but look at all the fun and the positive messages in there!
What will you do? Please comment.