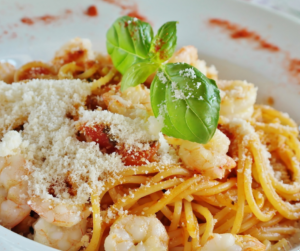 No Meat Spaghetti Bolognaise – Serves 4
• Olive oil
• 2 cloves garlic chopped
• 1 onion chopped
• 1 large carrot grated
• 1 small courgette grated
• ½ yellow pepper, chopped
• 120g dried red lentils
• 1 tsp dried oregano
• 400g tin of chopped tomatoes
• 1 tbsp tomato puree
• 2 handfuls of cherry tomatoes halved
• 600ml vegetable stock
• To serve: cooked spaghetti (use gluten free or wholemeal)
1. Heat the oil in a large saucepan
2. Add the garlic and onion, cook for a couple of minutes
3. Add the pepper, carrot & courgette.
4. Stir and cook until softened, approx. 3 minutes.
5. Add all remaining ingredients
6. Turn down the heat, place the lid on the saucepan and simmer for 25 minutes.
7. Serve with cooked spaghetti.