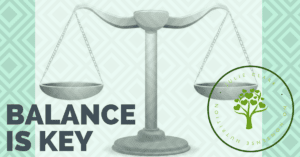 I'm going to blow the lid off something people don't talk a lot about when it comes to a "balanced life" and reaching for your goals.
It's almost impossible to have both at the same time.
When you're in the process of making changes in your life, no matter what they are, it's absolutely NORMAL for your life to get a little out of balance. At least for a short while.
I'm talking about times when …
You're starting a new job or a new business.
Working on a health, wellness, or fitness goal.
Saving to pay off  debt.
You have a family goal (like a new baby in the house, or you're suddenly in charge of your children's schoolwork).
You're in the midst of a pandemic and working from home!
You only have so many hours in a day, with a limited amount of energy!
When you're faced with a real-life "out of balance" goal or situation, there are a couple of things you can do about it.
First, accept it.
"To everything, there is a season…"
That's been solid wisdom for thousands of years – because it's TRUE!
If you try to do it "all" … it'll almost always just lead to disappointment, burnout, and unneeded stress.
Second, try to give the other areas of your life SOME attention.
I'm talking about things related to:
Finances/money
Your family and your friends
Your health and wellness
Your self-development and learning
Your spirit
If you ignore those areas of your life, before long you might find yourself feeling unhappy, unfulfilled, and feel like something is missing from your life (because it is!).
You might not be able to devote time to every area of your life every day, but carving out time once a week can make a real difference.
You can also upgrade how you spend your time!
For instance, let's say you're working on a nutrition goal for the New Year.
If you normally order takeaway to eat with the family on the weekends — and end up indulging in meals that don't align with your goals — what if instead you created a new "family dinner" at-home routine?
Everyone could chip in and help prepare dinner together – and if you have kids in the house who are old enough, maybe THEY can be (mostly) in charge.
Your family will remember these times for years to come … AND you'll all be eating healthier foods.
That's a win-win!
Most of the clients I work with are busy Mums. Being out of balance is something that get's talked about A LOT!
One of my clients Susan, had this experience:
Susan was overwhelmed by working from home and looking after her young children. She was literally exhausted. I started working with Susan in early September and she is like a different person now. On our last call she said "thank you so much for all the tools you have given me. I am so glad I invested in my health. It has made such a difference and I feel so positive going forward. My energy levels are now consistent, no crashes and it makes me a much better Mum".
We had to find a way to balance things in her favour without it adding to her to-do list or taking up extra time that she clearly didn't have.
When I work with clients whether it's one to one or in a group I am looking to balance 3 main areas so that they can feel a big shift.
I developed the Healthy Mirror Method for all Mums who want to be confident, calm, happy, healthy, energised and in control of their well-being at the same time as raising happy, healthy kids.
And I made it super easy to do.
Because kids mirror you. They copy your behaviour and habits so by helping yourself you also help your kids.
It's a win-win scenario.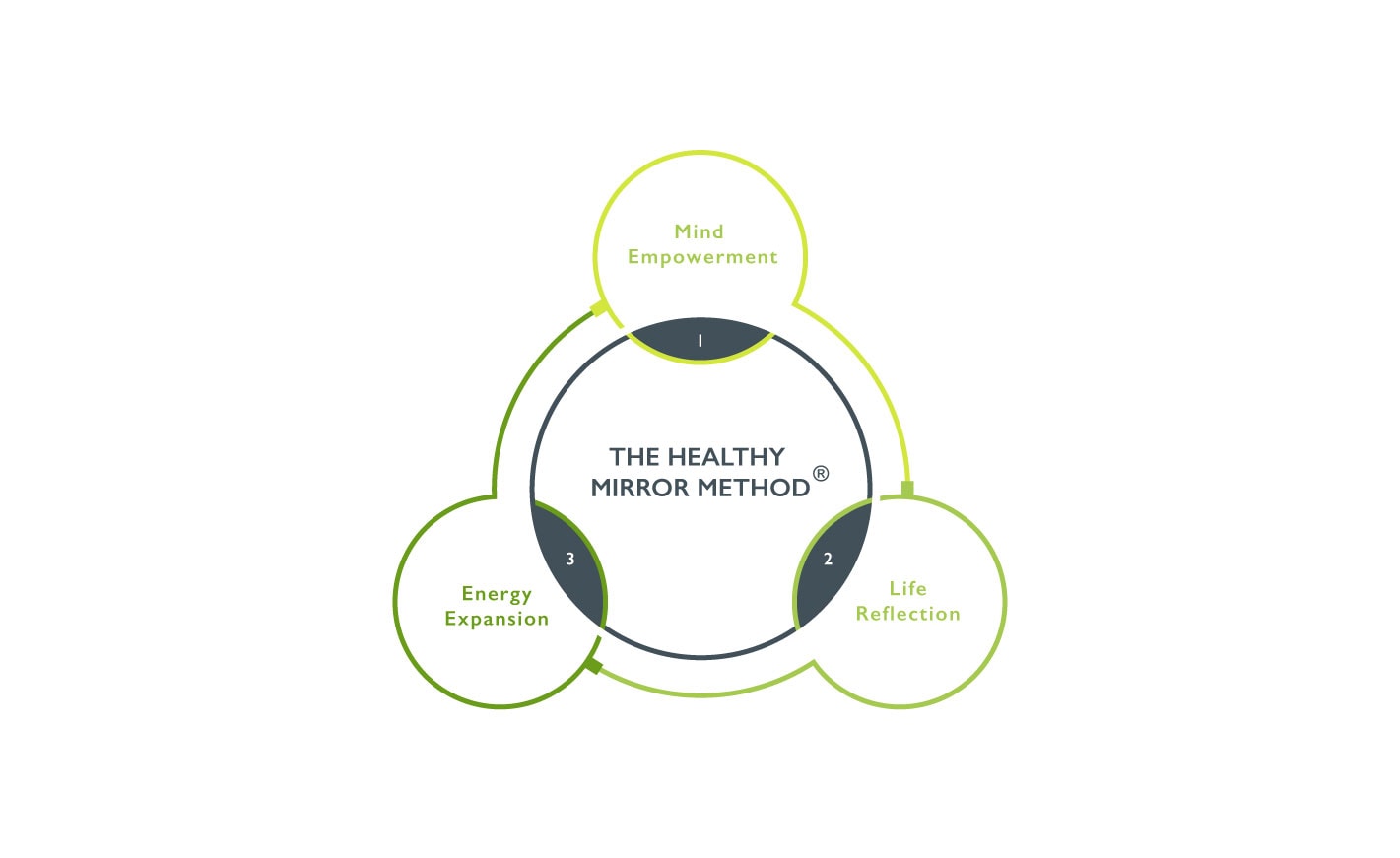 To fully embrace a healthy life as a Mum you simply need to combine the three pillars to get the results you've been looking for. It's the combination of the three that makes the difference between staying over busy, stressed and tired or being calm, happy, healthy, vibrant and full of energy.
Mind Empowerment – Using your brain power & mindset to effortlessly achieve your healthy family life.
When you use the power of your brain to work with you rather than against you, you can change your habits and mindset to achieve exactly what you want. This positive mindset can also be taught to your kids. You'll also get to understand your true identity within this pillar and be able to use your mind to be in alignment, so life flows so much easier.
Life Reflection – The roadmap to your healthy family life.
The things you surround yourself with and do on a daily basis impacts your well-being. From your sleep to your movement to your purpose and even stress management. In this pillar you'll discover how to use your life to reflect the experience you want instead of just firefighting every day and seeing the time whizz by without achieving what you really want.
Energy Expansion – The higher your energy the more nourished you and your family will be.
When your energy is up you are full of vitality, you make good choices for yourself, you're calm and focused, your immune system works well, your hormones are balanced, you can easily spin the plates, your parenting is better, you just feel great.
The combination of all three pillars means a healthy, happy Mum!
And when children grow up in a home where Mum is healthy and happy, then they also learn how to be healthy and happy.
Children mirror their parents.
If you would like to achieve balance in a simple, step by step way then why not schedule a FREE call with me to discuss your goals and how I can help you. Just click HERE.