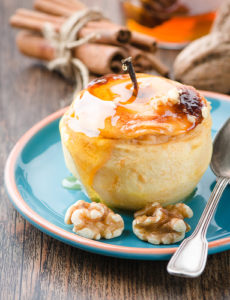 Baked Apples – Serves 4
4 eating apples, cored
4 dates, chopped
4 walnuts, chopped
4 teaspoons mixed seeds
4 tablespoons apple juice
4 teaspoons St Dalfour Marmalade
Sprinkle cinnamon
Preheat the oven to 220C/Gas 7.
Place apples in to a small baking dish.
Score the apples around the circumference.
Push the dates in to the bottom of the cored apple.
Spoon in the seeds and walnuts.
Top with the marmalade.
Pour over the apple juice and sprinkle with cinnamon.
Bake in the oven for 45 minutes.