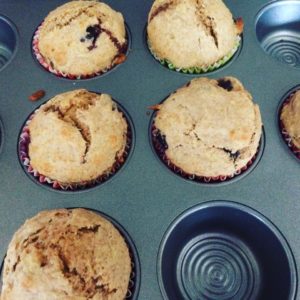 Banana Blueberry Muffin – Makes 6-8
200g wholegrain spelt flour
1 heaped tsp baking powder
2 ripe bananas mashed
2 eggs
1 tbsp melted coconut oil (or use rapeseed, mild olive oil)
1 tbsp maple syrup or runny honey
1 tbsp ground flaxseed (optional)
Handful blueberries
Preheat oven to 180C. Prepare a muffin tin by either greasing or using muffin cases.
Mix the dry ingredients.
Beat the egg, add the coconut oil, mashed bananas and honey.
Make a well in the centre of the flour and add the wet ingredients.
Mix well and add the blueberries, then fill each muffin case.
Bake in oven for 15 minutes.
Allow to cool before removing from tin or cake cases.