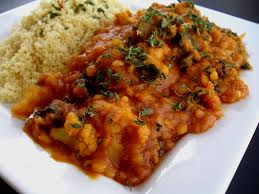 Cauliflower & Lentil Curry – Serves 2 + 2 children
3 tbsp.coconut oil
1 onion, finely chopped
1 garlic clove, crushed
25g fresh ginger, grated
2 tsp ground coriander
2 tsp ground cumin
1/2 tsp ground turmeric
75g red split lentils (washed)
150ml hot vegetable stock
1 cauliflower, split in to small florets
1 large carrot, peeled and diced
400ml can coconut milk
75g green beans (can use frozen)
3 tbsp. fresh coriander leaves
1 tbsp. lemon juice
Seasoning
Heat 2 tbsp. of the oil in a large saucepan and gently cook the onion until soft.
Add the garlic, ginger, ground coriander, cumin and turmeric and cook for 2 minutes, stirring all the time.
Stir in the lentils, then pour in the stock. Bring to the boil, then reduce the heat, cover and gently simmer for 10 minutes.
Meanwhile, heat the remaining 1 tbsp. oil in a frying pan and fry the cauliflower for 2–3 minutes until lightly browned.
Add to the lentil mixture with the carrots and coconut milk.
Bring the curry back to a gentle simmer and cook for a further 10 minutes or until the vegetables are tender.
Stir in the beans and cook for 3–4 minutes.
Stir in the chopped coriander and lemon juice, then season to taste with salt and pepper.