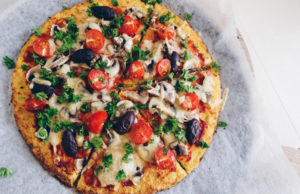 Cauliflower Pizza – Serves 2 + 2 children (prep 5 mins, cook 20 mins)
For the base
200g raw cauliflower
50g ground almonds
1 tsp mixed herbs
1 large organic egg
Olive oil for brushing
For the topping
You can use any toppings you like such as sliced courgette, sweet corn, tomato, peppers, mushrooms, ham and then add grated cheese or sliced mozzarella.
Preheat oven to 200c and line a baking tray or spray a baking sheet with oil.
Place the cauliflower in a food processor and process until it looks like rice. Tip out in to a large bowl and add the remaining ingredients (except the oil) and mix well.
Tip the mix on to the prepared baking tray and form into a round ball, then press down and shape until it is flat (about 1 cm) and is round in shape.
Brush with oil then bake for 15 minutes.
Put on your toppings and then grill under a medium preheated grill for 3-5 minutes until the cheese is melted.
Serve this with sweet potato wedges and a side salad.
This easy family recipe is taken from 10 week Get Back to You Plan.
For more details and recipes like this one please click here.