Roasted Pepper & Tomato Soup – Serves 4
• 4 peppers, sliced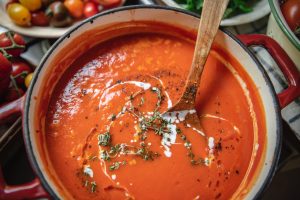 • 6 tomatoes, medium sized, quartered
• 1 red onion, sliced
• 2 tsp Vegetable bullion powder
• 1 tbsp olive oil
• Can of cannellini beans
• Fresh, chopped basil
1. Preheat oven to 180C/Gas 4/350F
2. Place the peppers, onion, tomato on an oven tray and drizzle with the olive oil. Bake for 30 minutes.
3. To a blender add 800ml water, the peppers etc., veg stock powder and beans plus 1 handful of fresh basil.
4. Blitz until smooth and serve with freshly chopped basil.