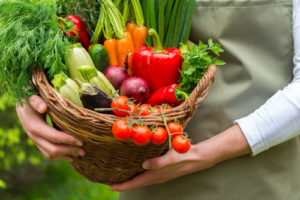 19 Small Ways to Improve Your Health!
Making changes to improve your health does not have to be overwhelming. Start with these small steps and you can build from here to achieve long lasting changes. When I work with clients my emphasis is always to make the changes easy.
If you need a kick start to your health, why not download my super quick healthy recipes here.
Take time to breath – every day just take 3 rounds of breath. I personally use these exercises by Dr Weil. http://www.drweil.com/drw/u/ART00521/three-breathing-exercises.html
Do your food shop online – this way you avoid those impulse purchases.
Eat together – a family that eats together have a better relationship according to studies.
Grow something – this doesn't have to be difficult, carrots in a pot, a herb on the window cill or a hanging basket of strawberries!
Smile more – you can eat all the good food in the world and exercise every day but if you haven't smiled what is the point!?
Eat slowly – your stomach does not have teeth!
Super food your breakfast – add ingredients you know are good to your breakfast; this could be some blueberries, flaxseed, spinach, nut butter. Cereal is not going to help you on your road to good health!
Look after your posture – check your desk and chair at work, your car seat or anywhere you spend a lot of time sitting. I've just invested in a stand/sit desk and find that working on my computer is better for my back when I am standing.
Detox your fridge – keep healthy easy to grab items in your fridge!
Dance every day – your favourite song is probably no more than 3 minutes long, put it on and have a dance.
Look after yourself first – you cannot help others if you are not in tip top shape yourself!
Swap your sugary snacks – you know this can only help you in the long term; a piece of fruit with some nuts is a great snack.
Eat a spoonful of seeds everyday – these contain vital nutrients that will help protect you against all major diseases.
Drink more water – at least swap one of your tea/coffee drinks to a glass of water.
Plan your meals – this will make your life so much easier!
Be accountable – if you want to make changes and stick to them start telling everyone around you what you intend to do.
Eat from nature not a factory.
Start small, take little steps and you will feel motivated and goals will be achievable.
Have fun! Whatever you do make sure you enjoy it.
For a plan to kick start to your new healthy regime just click here for my FREE 5 day body reset programme.