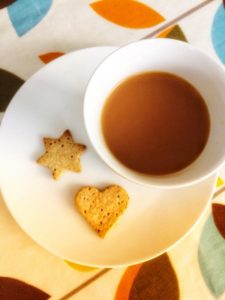 Healthy Ginger Bread Biscuits
• 200g wholemeal flour (I use wholegrain spelt)
• 100g ground almonds
• 90ml maple syrup (although whilst doing our sugar free challenge I've got this down to 35ml)
• 1tbsp melted coconut oil
• 3 tbsp chia seeds
• 2 tsp ground ginger
1. Preheat oven to 200C.
2. Simply mix all of the ingredients together – I use the food processor.
3. You will get a crumbly mix.
4. Add a little water until your mix comes together and can be rolled out.
5. Transfer to a floured surface and roll out. Cut shapes using your cutters.
6. Place on a lined baking tray and bake for 10 minutes. Allow to cool and enjoy.
For a video of this recipe click HERE.
For more recipes like this click HERE.