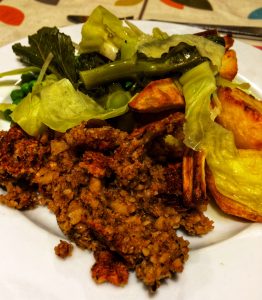 Vegan Nut Roast – Serves 4
• 1 medium red onion chopped
• 2 cloves garlic finely sliced
• 1 tbsp olive oil
• 2 tsp of marmite or 1 tsp Marigold vegan Vegetable Bouillon powder
• dissolved in 150ml water
• 220g mixed nuts
• 1 slice wholemeal bread
• 2 tbsp ground almonds
• 1 tsp mixed herbs
• Salt & Pepper
1. Preheat oven to 180C.
2. Heat olive oil in a frying pan & add the onion & garlic.
3. Fry until browned and soft.
4. In a food processor add the slice of bread, torn in to pieces. Blitz until you get breadcrumbs.
5. Add the nuts and pulses until the nuts are chopped in to small pieces.
6. Then add all remaining ingredients to the food processor and mix.
7. Transfer to a lined and oiled loaf tin.
8. Bake in the oven for 30 minutes.