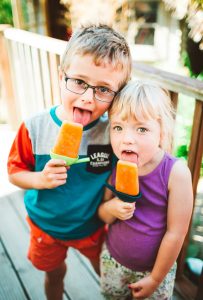 The school holidays are upon us (or they are imminent for most) and I'm sure you will be looking forward to it just as much as me.
I love the relaxed mornings and the break from the 'time-table'.
No 'Mums' taxi to and from after-school clubs and activities, no having to iron school uniform, no rushing to get out of the door at a certain time and (for me this is the one I love the most) no having to check your inbox for an email from school reminding you to make a costume, provide cardboard (or whatever it may be), sponsor this that and the other, bake cakes or take a pound for non-uniform day.
HURRAY for the school holidays!
This will be my reaction for the first week in any case.
Now whilst I love the lack of routine in the initial days I do rather miss it after a couple of weeks off! So, one of the things I always organise is the food!
My children will eat me out of house and home during the school holidays if I let them. They seem to want (although they don't necessarily get!) a snack every 5 minutes. Then there's the play dates and extra mouths to feed, the picnic lunches for days out, the rushed late dinners due to the days out and the endless trip to the supermarket to stock up. Oh, and let's go camping, that'll be fun too!!!
This year I am getting myself organised across all 'holiday' departments so I can actually spend some quality and enjoyable time with my children. I've still got to work and my husband is barely around at this time of year due to his work commitments.
Therefore I need to be super organised!
Thanks to Kelly from Project Me Summer Planning Tool and my own Food Survival Plan I am determined to have a stress-free summer.
Hallelujah to that!
I have put together an awesome Summer Food Plan to help both you and I get ready for the provision of food during the school holidays.
* I've got 21 super quick dinners sorted!
* And 25 delicious healthy snacks that are so easy to make the kids can do them (BOOM – an activity too!!).
* Plus 5 slow cooker meals for those long days out – hurray for dinner being ready when you walk through the door!
* Also 15 picnic ideas and the best containers and cool bag!
* A camping meal plan – just in case you brave the tent!
* And finally, a meal planner, help with meal planning and a journal to keep you on track.
You can download and access the Summer Food Survival Plan HERE.
Let's all have a fabulous stress-free summer holiday with delicious food and happy kids.
Are you with me?